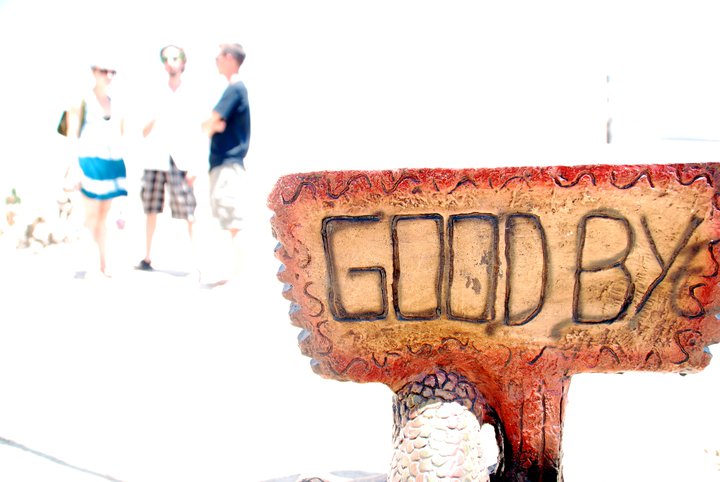 Guest Post From Jenna Hall
If you're a travel enthusiast, it's hard to avoid scratching the the 'travel itch'-and I am not talking about the rash you got on your last overseas adventure. It's the subtle and blatant clues that life gives you when it's time to hit the road again and explore. Monotony and giant leather planners are great for some, but not for those with nomadic feet.
I have found that people who have an eager passion for travel need to get their regular 'fix' in order to maintain their sanity levels- believe me I know. Therefore, I have compiled a list of clues to see if your meandering subconscious is itching to take the next over-night chicken bus or flight straight out of the country.
Clue 1) You have been on Trip Advisor, Orbitz, or some other flight directory site daily looking for cheap holidays
That flight you have bookmarked to Asia? Well it may not be there tomorrow or the price could inflate at least a couple hundred dollars if you wait. If you're on a flight directory every single day, remember this: just a few little 'clicks' separate you and your next adventure abroad.
Clue 2) You have been living vicariously through your traveling friends Facebook pictures
Most long days in the office, especially if you are confined to a cubicle, call for some serious face-stalking relief. Yet, if lately you have found yourself repeatedly clicking through the picture streams of friends who are traveling abroad and snapping at your coworkers when they interrupt your 'mental trip'… it may be time to travel.
Clue 3) You have been visiting other countries on Google Street View
When I figured out I could scope out foreign cities via Google Street View I was stoked. It makes planning for a trip a little easier when you can map out your terrain. However, if you are taking the little 'orange man' and dropping him into the streets of Barcelona Spain while insisting he strolls through the park and stops at local cafes… it may be time to travel.
Clue 4) You have been perusing through craigslist postings in other countries.
It can be fun to look at other big cities in your country to see what opportunities are available. If you find yourself skimming through the 'et cetera' jobs in random countries and start to respond to the posts that call for 'foreign egg or sperm donors' hold on to your eggs and fluid; it's definitely time to travel.
Clue 5) You lost your Job, broke up with your significant other, or both.
There is nothing like losing all your responsibilities including your responsibility to be accountable to another person and feeling as free as a bird. If you have some cushion cash and a semi-stable heart, it's time to fluff your feathers and take off. Daydreaming about traveling will always occur among the consciousness of wandering nomads. For us drifters, being stuck in the box for too long will makes us antsy and itchy for new expeditions. Tune into the clues above and venture out, cause life is telling you 'it's time to get the heck out and travel!'
*************************************************************************************
About Jenna:
I have been writing and traveling nomadically since I was first able to unsteadily hold a pencil in my left hand and spell my name with a backwards letter J. At age seven I would pack up my belongings and spend nights in a 'tree fort' in my backyard. I grew up in a white-bread, soccer-mom town. I was thankful enough to have a Father that unsheltered my narrow view by flying my family to the Dominican Republic twice a year to deliver shoes to underprivileged villages around the country. I have since caught the travel bug and have journeyed by train through Budapest, sailed the Caribbean on a catamaran and traveled by truck flatbeds through most of the Dominican Republic. More recently since moving to Tucson, I take frequent bus trips down to Mexico where I have been trying my hardest to implement my own strategy of Rosetta Stone and I must say my Spanish is getting better. I have willingly catapulted myself into some of the most adventurous experiences of my life. I don't see any other way of living but to live and write through the pen and feet of a nomad: Always traveling, always writing.