If you're planning a holiday to Kerala and relaxation is your main aim, I recommend booking a trip to Kovalam. Home to gorgeous beaches and resorts to suit pretty much every budget, this is the place to go if you want to idle the hours away on the sand or pick up the pace with some water sports.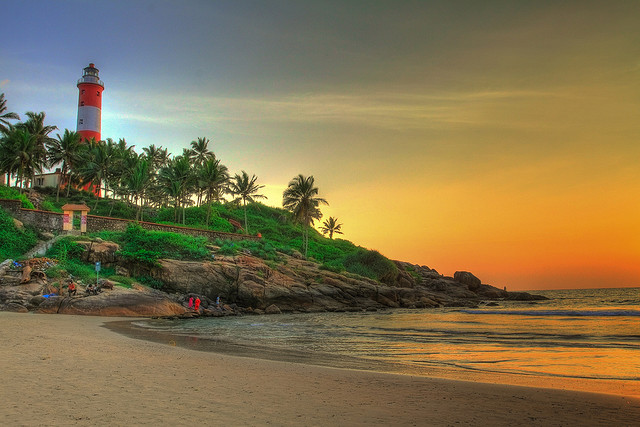 Kovalam: the basics
Before I start talking about the various beaches here and what they have to offer, let's take a broader look at Kovalam. One of the India's best-known beach resorts, it is home to three crescent beaches that sit next to each other and are fringed not only with coconut palms, but also pretty much all the amenities you could need.
Kovalam itself is really close to the capital city, Trivandrum (also known as Thiruvananthapuram), which means heading here for a day trip is really easy. I'll talk about some of the best things to see below, but I expect you'll want to spend most of your time sunning yourself on the beach! So, let's take a look at what those have to offer…
The beaches
As I mentioned briefly above, Kovalam's coast is split into three crescent-shaped beaches – Lighthouse, Hawa and Samudra. Part of what makes these so attractive (aside from the fact they're beautiful) is the presence of a huge rocky promontory, which keeps the waters here nice and calm.
The top beach to check out (and so, unsurprisingly, the most popular) is Lighthouse beach, which is where you'll also find a lot of the local accommodation. If you can tear yourself away from the sand for a few minutes, I thoroughly recommend a quick trip to the top of lighthouse that the beach is named after to experience its famous views.
Lighthouse beach is also a good place to visit if you fancy treating yourself to an Ayurvedic treatment or two – something that's definitely worth doing if relaxation is the name of the game!
All three beaches offer a decent mix of activities alongside the obvious staples of sunbathing and swimming. For example, you can go on things like catamaran cruises, which are a nice way to do something a bit different.
Take a day trip to the capital
Kovalam, India is around 16 km from the capital, so I reckon it's worth devoting a day to going there, especially if you're keen to soak up a little culture during your trip. Start out by visiting the Kuthiramalika Palace Museum, which was built by poet, statesman and musician Maharaja Swathi Thirunal Balarama Varma. As well as displaying amazing artefacts like priceless collections belonging to the royal family, the building itself is impressive – look out for its gorgeous wood carvings in particular.
Next, get yourself over to the Padmanabha Swamy Temple, which is tucked away inside the East Fort. This is one of the country's 108 sacred Vishnu shrines, and it has got a reputation for several things. In terms of architecture, you should be looking out for a blend of Kerala and Dravidian styles, while on the artefact front the temple is most famous for its stone carvings and mural paintings.