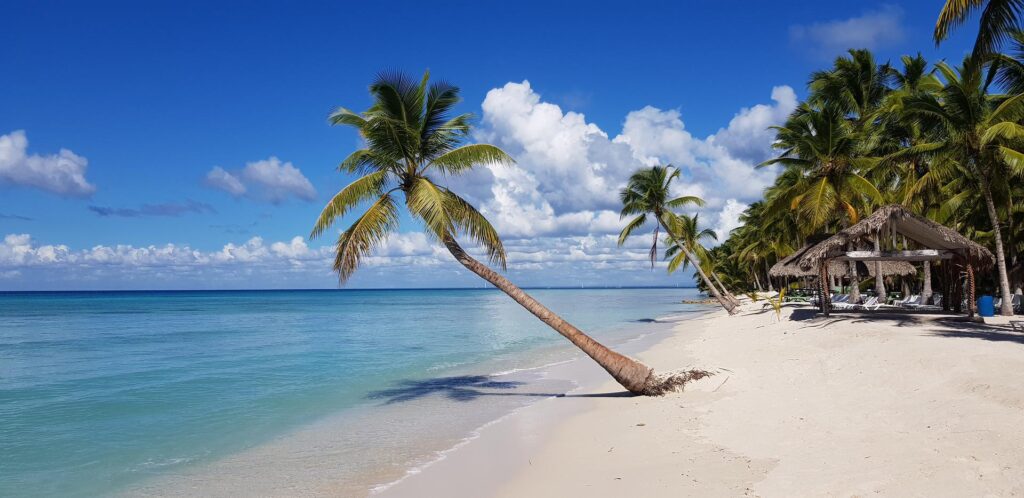 There is no place better than the Dominican Republic for a tropical vacation in summer. What can be more relaxing and joyful than having a coconut on a white sand beach, watching the picturesque view around the palm trees, and swimming in the Caribbean sea? 
Located at the junction of the Atlantic Ocean and the Caribbean Sea, the Dominican Republic is a beautiful island whose terrain covers savannah, rainforest, and highlands, including the Caribbean's tallest mountain. 
If you are traveling to the Dominican Republic for the first time, it can be a bit overwhelming to figure out how to get to the country, where to stay, and what to see and do. 
As a first-time traveler, you must be looking forward to enjoying all the wonderful things about the country i.e. breathtaking scenery, pleasant weather, and tons of exciting things to do. You can use this comprehensive travel guide to plan the best trip to the Dominican Republic. Below, you'll find a few helpful tips that you should know before you visit the Dominican Republic.
Where to Stay?
The Dominican Republic is home to an impressive selection of boutique hotels, cabins, and 
all-inclusive resorts for all budgets. There are five areas in the country that are extremely popular among tourists, namely Punta Cana on the east coast of the island, Cabarete on the north coast, Las Galera, and Las Terrenas on the northeastern coast, and Santa Domingo on the southern coast. 
Punta Cana is a beautiful place, one of the most popular places to stay in the Dominican Republic. The coastal town is home to eleven stunning beaches, all of which are surrounded by palm trees and are great for beach sports like surfing. 
While Punta Cana has many excellent places to stay, nothing can be better than Lopesan Costa Bavaro Resort Spa & Casino, an all-inclusive high-end resort located within walking distance of Bávaro Beach. This Punta Cana beach resort features 1,042 classy suites with a wide range of upscale amenities including terraces with gardens, pool, and ocean views. 
If you are visiting Punta Cana in June, you can have an amazing time delighting in the turquoise water of seven freshwater swimming pools, one of which is the famous 'Infinity Pool' which boasts a double-level sheet, one at the height of the hotel and the other connected to the beach itself. 
There's a small pool exclusively for the smallest of your family. You can have a memorable time with your partner at the exclusive 'Adults Only' pool which is provided with sun loungers and futons. 
The upscale resort in Punta Cana also features a spa, gym, kids' club, large event space, pool bars, and beach clubs. If you like gambling or playing games, you are going to spend most of your hours in the resort's grand on-site casino which boasts several table games, slots, and sportsbooks. 
The European-style hotel offers an eclectic range of culinary options that cater to foodies of all stripes. There are eight elegant restaurants specializing in international, national, and regional cuisines. 
Arriving in the Dominican Republic
The primary points of arrival into the Dominican Republic are Punta Cana, Puerto Plata, and Santo Domingo among several other international airports at Samana and Santiago. You can find plenty of flight options if you are traveling to the country from Europe or North America. It's often cheaper to arrive in the country via a charter flight. 
The shores of the Dominican Republic are home to a giant all-inclusive tourism industry that offers amazing package deals to tourists for airfare, hotel, and food abound with reasonable rates. However, these package deals vary depending upon where you are traveling from. 
The Dominican Republic Tourism experiences may vary among tourists from different parts of the world. If you are traveling from South Africa, for example, you will find fewer bargains and have to travel via the major airlines. 
As far as COVID-19 travel protocols are concerned, most travelers are not required to present a negative COVID-19 test upon their arrival at the airport. However, airports and other ports require passengers who manifest symptoms to take a quick, aleatory test. The ports may also require a random percentage of passengers to take this test. 
Passengers under the age of seven and those who present a vaccination card or a negative PCR taken within 72 hours before arriving in the Dominican Republic are exempt from the random test. All passengers are required to take a temperature test. Passengers that manifest symptoms or test positive are isolated and attended at authorized locations. 
You must talk to your airline provider and airport of arrival regarding COVID-19 testing and other necessary requirements for inbound flights to the country.
Things to See & Do in the Dominican Republic
There are scores of exciting activities to do and gorgeous places to see in the diverse terrain of the Dominican Republic. Whether you like sightseeing or playing beach sports or shopping, the Dominican Republic has hundreds of entertainment options. 
If you are staying at Lopesan Costa Bavaro Resort Spa & Casino or any other hotel in Punta Cana, you can spend quality time on Bavaro Beach. You can engage in a variety of gripping and soul-stirring activities on the beach, such as surfing, swimming, snorkeling, beach baseball, parasailing, scuba diving, deep-sea diving, paddle boarding, and jet skiing. You can also take a day trip to Saona Island, Eyes Ecological Reserve, Hoyo Azul, or Scape Park. 
Cabarete, in Puerto Plata, offers the best water sports in all of the Dominican Republic. From a short walk at Parque Nacional El Choco y Las Cuevas de Cabarete to surfing at Encuentro Beach, the town is packed with exhilarating adventures. You will also be able to find cozy cafes, cool beach bars, and ritzy restaurants in the town. Cabarete is famous for its nightlife and is an ideal destination for people looking for an active holiday with a friendly vibe. 
Santo Domingo features dozens of landmarks, parks, and cultural sites, all of which are worth visiting regardless of whether or not you are staying in the capital city. Your Dominican Republic holidays 2022 must include visits to the Museum of the Royal Houses, the Nuestra Señora de la Encarnación church, Santo Domingo Colonial Zone, and the National Museum of Natural History. 
If you are visiting the metropolis with your children, you may want to take them to the Caribbean Splash Water Park. You can revel in the striking views of the city by taking a cable car to San Felipe or strolling at the Mirador Del Sur Joaquín Balaguer Park.