Roma Norte is one of the most vibrant neighborhoods in Mexico City, with a rich culinary scene that offers a wide range of dining options.
Whether you're in the mood for traditional Mexican food, international cuisine, or just a great cup of coffee, Roma Norte has something for everyone. In this comprehensive guide, we'll explore the best restaurants in Roma Norte Mexico City, providing you with a curated list of must-try dining experiences in this trendy and artsy neighborhood. So, take out your forks and discover top eateries that should be on your list while exploring Roma Norte CDMX!
1. La Docena
Upscale Seafood Dining
La Docena is a trendy gourmet restaurant specializing in seafood, with a particular focus on their famous oysters. This stylish eatery has gained a reputation for its fresh, high-quality seafood dishes, attracting both locals and tourists alike.
In addition to their flagship location in Roma Norte, La Docena also has branches in Polanco, Puerto Vallarta, and Guadalajara beyond Mexico City.
Address: Frontera 31, Roma Nte., Cuauhtemoc, 06700 Ciudad de Mexico, CDMX, Mexico – Google Map
2. Esquina Comun
Hidden Culinary Gem
Esquina Comun is a unique dining experience that you won't find on Google Maps. Located inside a private house, this hidden gem requires reservations via their Instagram page. The creative chefs at Esquina Comun serve beautifully crafted dishes in a cozy ambiance, providing a full sensory experience at dinner that will leave you wanting more.
3. Maximo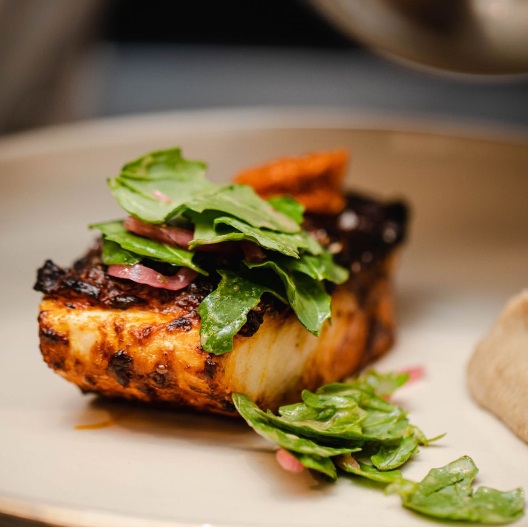 Gourmet Mexican Cuisine
Maximo is a top Mexican restaurant in Roma Norte, offering a delicious selection of gourmet dishes for sophisticated palates. The elegant setting, relaxed atmosphere and expertly prepared meals make Maximo a must-visit for anyone looking to indulge in high-quality Mexican cuisine.
Address: Av. Álvaro Obregon 65 Bis, Roma Nte., Cuauhtemoc, 06700 Ciudad de Mexico, CDMX, Mexico – Google Map
4. Contramar
Fresh Seafood Experience
Contramar is a highly recommended seafood restaurant in Roma Norte, known for its incredibly fresh fish and outstanding service. While the bustling atmosphere and packed tables may not be for everyone, the quality of the seafood is worth making a reservation a few hours in advance.
5. Restaurante Rosetta
One of the most raved-about restaurants in Roma Norte, Restaurante Rosetta offers a unique and creative dining experience that you won't want to miss.
With dishes like house-made sourdough bread, slow-braised lamb tacos, and fruit-based desserts that taste like chocolate, Rosetta is a must-try for any food-lover visiting Mexico City. Make sure to book a reservation ahead of time to secure your spot at this popular eatery.
Address: Google Map
6. Tacos Alvaro Obregon
Late-Night Taco Spot
Tacos Alvaro Obregon is one of the go-to taco spots in Mexico City, perfect for those late-night cravings. Offering a wide variety of taco options, Tacos Alvaro Obregon is known for its delicious pastor tacos and envueltos – a dish made with melted cheese, pastor meat, and crispy flour tortillas. Top your tacos with their signature chipotle salsa and spicy guacamole for a truly unforgettable flavor experience.
Hours: Monday to Saturday 1pm-5am, Sundays until 10pm
7. Taco Mio
Tasty Market Tacos
For more delicious tacos, head to the tianguis, or covered market, at the Fuente de Cibeles in Roma Norte on Wednesdays, Saturdays, and Sundays packed full of food stalls.
Look for the neon sign that says Taco Mio and grab a seat to enjoy their mixiote tacos – slow-cooked, flavor-packed mixed meat served with nopales (cactus) and spicy habanero onions.
8. Tacos Los Juanes
Pastor Tacos and More
Tacos Los Juanes is a popular spot for the best at al pastor and tacos in the Roma Norte area. Located near Jardin Chapultepec, a local craft beer bar, Tacos Los Juanes also offers delicious lengua tacos – cow tongue tacos that are worth trying if you're feeling adventurous.
Hours: Monday to Thursday 8pm-1am, Friday and Saturday until 5am, Sundays until midnight
9. Orinoco
Authentic Monterrey Tacos
Orinoco brings the flavors of Monterrey to Roma Norte with their many delicious tacos: trompo (pastor), arrachera (steak), and chicharron (pork skin with pieces of pork) tacos. The popular pirata, a grilled steak quesadilla, is also a must-try.
With fantastic food and a lively atmosphere, Orinoco is a great spot for your lunch or late-night taco cravings.
Hours: Sunday to Thursday 1pm-4am, Friday and Saturday until 5am
10. Lorea
Innovative Fine Dining
Lorea is a fine dining restaurant in Roma Norte that rivals top establishments like Pujol, Quintonil, and Sud 777 in terms of quality and creativity.
Offering several vegan options and a tasting menu that changes seasonally, Lorea is an excellent choice for adventurous eaters who want to experience the cutting-edge of Mexico City's culinary scene.
Hours: Tuesday to Saturday 7:30-11pm, closed Sunday and Monday
11. Expendio de Maiz
Native Mexican Corn Cuisine
Expendio de Maiz is a standout among Roma Norte restaurants for its focus on native Mexican corn and traditional food preparation methods. Guests can learn to make their own tortillas or simply enjoy a selection of dishes made with fresh masa dough and native Mexican ingredients.
Hours: Tuesday to Sunday 9:30am-6:30pm, closed Mondays
12. Paramo
Lively Bar and Restaurant
Paramo is both a fantastic bar and an outstanding restaurant in Roma Norte. Known for its lively atmosphere and delicious food, Paramo offers a variety of dishes, including wild boar rib tacos and chamorro (pork shank) tacos. While the ceviche may not be their strong suit, the meat tacos are not to be missed.
Hours: Daily 7pm-2am
13. Panaderia Rosetta
Exceptional Pastries and Breads
Panaderia Rosetta is a great restaurant and home to some of the best pastries in not only Mexico City but perhaps the world. Their famous guava roll, lemon roll, and almond croissant are all worth trying. You can enjoy their freshly made bread in a sandwich or simply grab a coffee and a pastry to go.
Hours: Monday to Saturday 7am-9pm, Sundays until 7pm
14. Patisserie Dominique
Authentic French Pastries
Patisserie Dominique is a must-visit for pastry and dessert lovers, offering authentic French pastries made by skilled French chefs. From eclairs to almond croissants filled with marzipan, the decadent treats at Patisserie Dominique are sure to satisfy your sweet tooth. Their flat white coffee is also a perfect accompaniment to their delicious pastries and dessert.
Hours: Sunday and Tuesday 9am-2pm, Wednesday to Saturday 8:30am-5:30pm, closed Mondays
15. Belmondo
Sandwich Haven
Belmondo is the ultimate destination for sandwich lovers in Roma Norte. With amazing bread and flavorful meats, their sandwiches are a must-try. The French Dip sandwich and the short rib sandwich are particularly popular choices. They also offer decadent breakfast options and fantastic coffee.
Hours: Monday to Saturday 8:30am-midnight, Sundays until 10pm
16. Meroma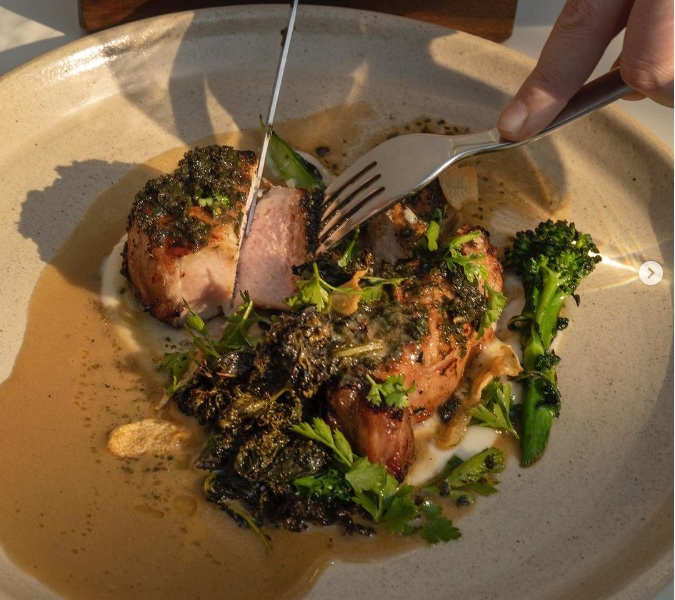 Italian-Mexican Fusion
Meroma is a charming bar and restaurant in Roma Norte that offers Italian-style food with a Mexican twist. The menu is heavily focused on seafood, and their crudo dish is a standout favorite. Pair your meal with a mezcal cocktail and share a variety menu of starters with friends for a fun and flavorful dining experience.
Hours: Tuesday to Saturday 1:30-11pm, Sunday until 6pm, closed Mondays
17. Fonda Fina
Customizable Mexican Dining Experience
Fonda Fina is a Roma Norte institution, offering a unique dining experience with a customizable menu.
Choose your meat, sauce, and side dish separately to create your perfect meal. With options like spicy tamales and and a variety of moles, Fonda Fina is a must-visit for anyone seeking authentic and Mexican flavors.
Hours: Monday to Wednesday 1-11pm, Thursday to Saturday until midnight, Sunday until 7pm
18. Mog Bistro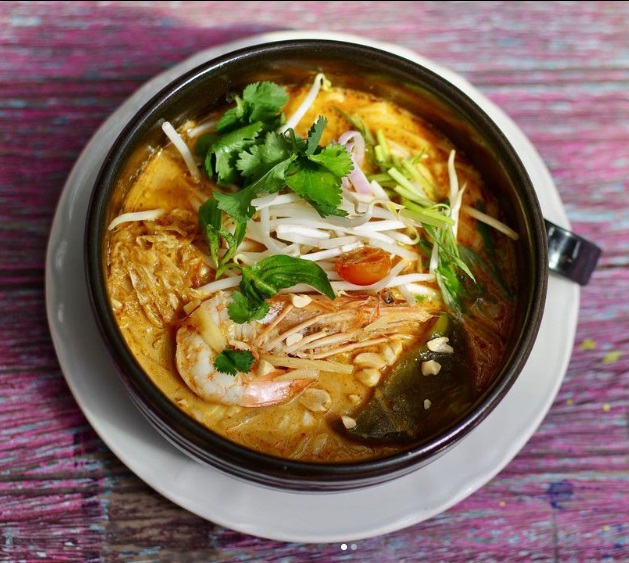 Authentic Japanese Cuisine
Mog Bistro is a hugely popular Japanese restaurant in Roma Norte, known for its outstanding ramen, sushi rolls, tempura shrimp, and nigiri. Be prepared for a wait, as this hotspot has a long waitlist – but the absolutely delicious food and authentic flavors make it well worth the wait.
Hours: Monday to Thursday 1pm-midnight, Friday and Saturday until 12:30am, Sunday until 11pm
Conclusion
Roma Norte is a food lover's paradise, with a diverse range of dining options that cater to every taste and preference, a gastronomical food tour in this magical neighborhood will leave no stomach empty. From authentic Mexican cuisine to international flavors, the best restaurants in Roma Norte Mexico City offer a culinary experience that you won't want to miss.
Whether you're a local or a visitor, this list of top eateries in Roma Norte CDMX will help you discover the best spots to satisfy your cravings and enjoy a memorable dining experience in this vibrant neighborhood. Happy eating! Do you have a favorite Roma Norte restaurant that we missed? Please share in the comments!