I never thought I'd ever say I needed to escape from Miami in December, but I most definitely did. Normally, the weather is great this time of year – cool, almost zero precipitation and plenty of things going on. But, up until mid-December, the weather was rainy almost every day, so my friend Matt and I decided to get the hell out of dodge for a few days. So, one week ahead of time we searched flights and 7 days later we were walking off a plane at the modern Juan Santamaría International Airport in San Jose Costa Rica to bright sunshine and a perfect temperature.
We would only have four days in Costa Rica, which I'd say after going, isn't enough. The majority of everything you want to see is at least a few hours from the capital city. That left us not many options for what to see and do. So, after leaving the airport, we headed to Budget rent a car to get some wheels. Just my luck, my friend didn't know how to drive a manual either (one of the biggest FAILS of Americans), so we had to rent an automatic, a Toyota Yaris, which was going to run us $600 bones for 4 days, FML. So after putting out of the rental place, we headed to our hotel in Santa Ana (a suburb of San Jose) where we were going to spend a night before heading to Poas Volcano the next day, and then on to the beach.
Our hotel, (called Studio Hotel) was really amazing which I don't say about hotels often. It's hard to find independent hotels these days that really take things seriously without corporate barking down their throats, but this place was truly legit. Great rooms, friendly staff, interesting/perfectly manicured grounds and the entire hotel was adorned by contemporary art by Costa Rican artists. They even had a rooftop pool which offered great views of the beautiful mountain backdrop. Breakfast was included (and actually had protein) as well as complimentary Wi-Fi.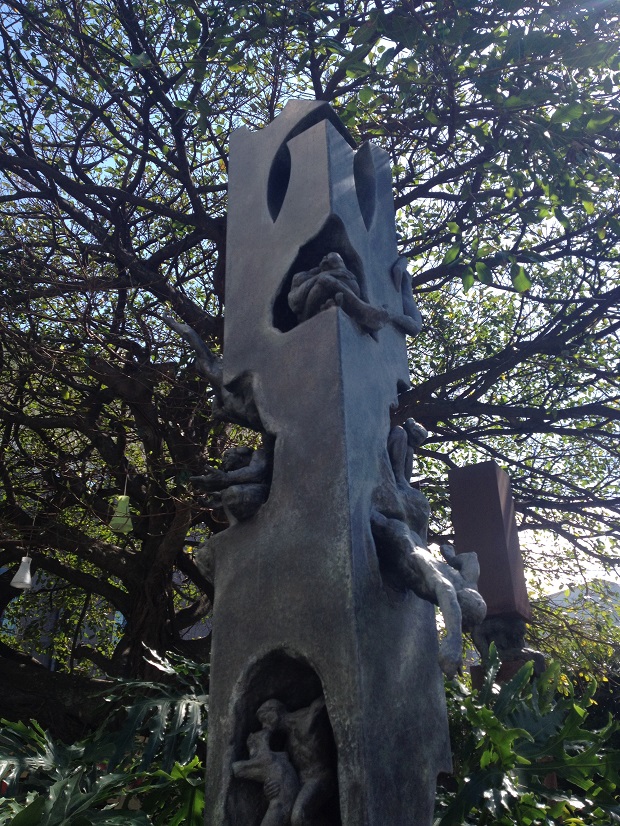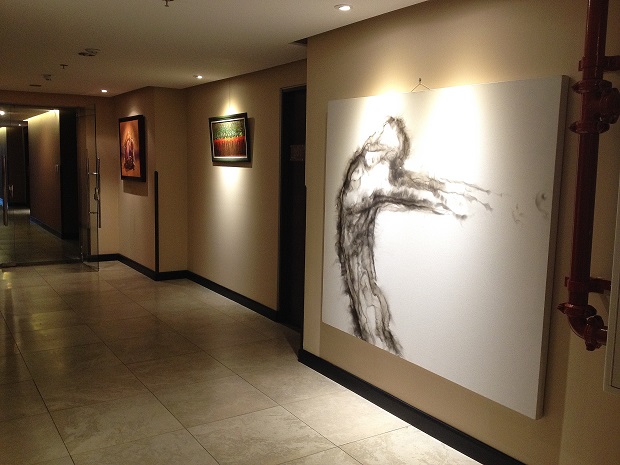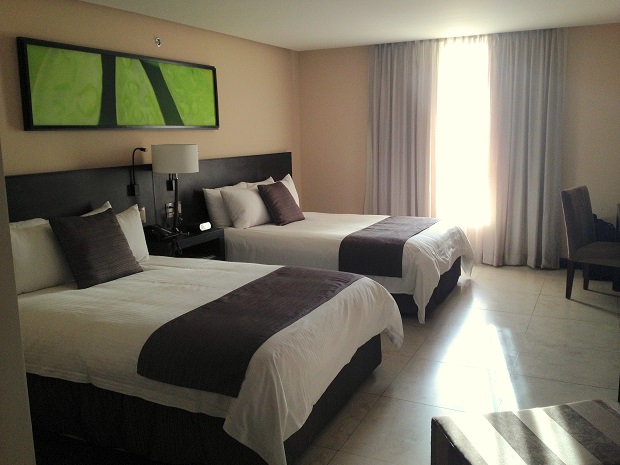 That evening we decided to hit the town, but unfortunately every place we went to was pretty much dead. Supposedly this time of year, Costa Ricans with the means to do so (also probably the ones with the means to drink at bars/clubs) head to the coast on the weekends. We ended up at a casino next to the airport (fiesta casino) that had a great live salsa band and a bunch of people getting salsa loco in a manner two gringos could only dream, but it fired us up to take lessons in the near future. With my Spanish capabilities, future Salsero abilities and blue eyes, I'm pretty sure I'll be irresistible to even the most hardened of latin women…Yes!
The next day, we slothed our way out of bed and down to breakfast (Costa Rica is in fact full of sloths, 2 toed, 3 toed, lazy white people, they got em all!). After packing up our stuff, we hopped into our Ferrari and headed for Poas Volcano, which is actually easily visible from where our hotel was, but still over an hour drive away.
We began making our way towards the volcano which looked like something out of Lord of The Rings with its cloud shrouded summit. The ride up was pretty steep, and while the road is decent, there are definitely some precipitous hairpin turns at some locations (i.e. four foot deep drainage ditches with no barrier on the side of the road). There are plenty of places to stop along the way to stop for a drink or snack. The higher you get up, you'll see more people selling fresh strawberries for about 2 bucks a a carton which is a refreshing treat.
As we thought we were about to reach the top of the volcano which supposedly has 2 beautiful lakes and a moon-like crater (You'll read why I say supposedly in two seconds), we in fact didn't make it. Did we crash into a strawberry truck? Nope. Did we drive off the side of a cliff? Nope. We hit a traffic jam and said fuck it. We were waiting in a line for 20 minutes and after consulting Google Maps and some people on the road, we deduced we were still a couple kilometers from the entrance to the national park. Hey it's all about the journey anyways right? So, We turned around and headed back down the mountain to head for the coast, which was going to take us 3 hours anyways (and thank god we turned around when we did or we would have been driving in the dark). Here's the view from how high we made it up.
Relying on Google Maps which works great in the USA, we ended up taking the veritable donkey trail instead of the main highway thanks to multiple road closures not reflected in good ole' Google's database. We got to see some of the real countryside, but after literally driving the entire day, I was more than ready to sip a beer alongside the lapping waters of the tropical Pacific.
So when we finally arrived in Jaco Beach, the sun was getting ready to set. Jaco should only take an hour and half if you go the right way from San Jose. It is one of the major beach towns in Costa Rica due to its proximity to the capital, but, it's definitely not the nicest. For two single American dudes, it was fine. The beach is large, the water warm, and there is some great surfing on the southern end of the beach (we rented boards and went in the middle of the beach where it was much rougher, FAIL).
There are plenty of things to do in the area like horseback riding, off-roading, and zip lining which we opted to do. I've done some ropes courses before in my life with small zip lines, but the Vista Los Suenos Zip Lines were pretty serious. They aren't cheap either, $70 for a 2 hour trip, but that includes pick up and drop off at your hotel, all the equipment, transport via tractor up a jungle trail where you get a briefing, and a one way ticket down via tree top canopies and 12 zip lines (and some fruit when you're done). Some of the lines are really long and you get going faster than you'd think. I even opted to go upside down and no hands (which was a ridiculous idea considering I poop my pants at heights).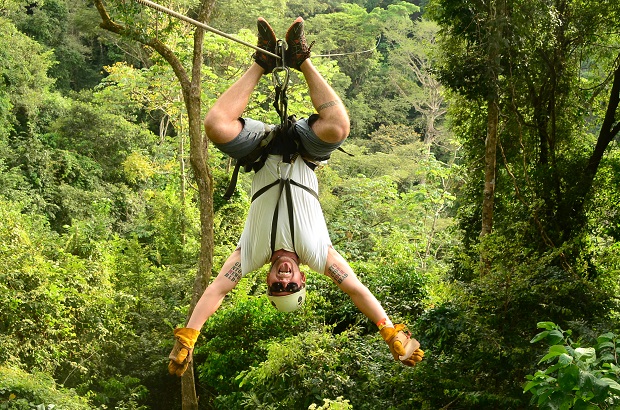 We actually saw more Costa Ricans than foreigners in Jaco Beach which was kind of nice. We stayed at the Best Western Jaco Beach which is one of the only resort style hotels in Jaco. It wasn't cheap ($120/person/night), but if you consume enough libations and grub, it isn't that bad. The hotel is a bit dated but it is kept clean and the staff was really great.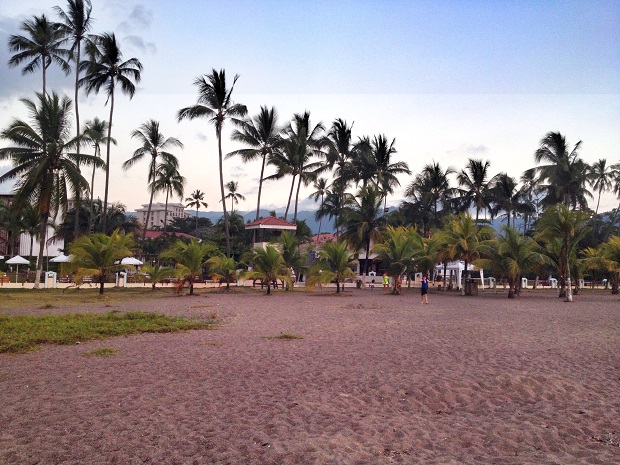 The town of Jaco, which is basically just a one road strip a bit inland from the beach, is completely marketed for tourists. There are a bunch of restaurants, bars, surf rental places, car rental places and of course a few American fast food chains. A guy I work with told me Jaco is basically like any tourist beach in Thailand and I'd have to agree 100%. The nightlife is decent and doesn't get going until late, but it's pretty dominated by locals and whores. But, of course there are plenty of tourists too. The prostitutes aren't pushy either so it doesn't feel sleazy (prostitution is legal in Costa Rica by the way).
On New Years Eve, our hotel put together an amazing buffet dinner which looked like it had every staff member in the whole place working the line. They had live music, and at around 10 PM, they busted out the salsa tunes, and my friend and I were dancing up a storm with some Costa Rican ladies sitting at our table. I masked my inabilities by spinning my partner around as much as I could and doing ridiculous things like putting a flower in my mouth and pretending we were doing the tango…she loved it…I was cringing the entire time trying to replay the Youtube video I watched earlier that night entitled, "How to learn how to dance salsa in 5 minutes". FML.
We were lucky enough to be able to return our car a couple of days early in Jaco and we ended up saving $300 which was pretty clutch (you know, like the clutch on a manual car that neither of us know how to use). A cab to the airport (1.5 hours) only cost $80 so we decided there was no reason to keep the car. So when we flagged a taxi down on our last day, we got going and about 30 minutes later, the driver asked if we had any water. "What?!". He said in Spanish that it was for the engine which was overheating. My friend and I looked at each other and rolled our eyes and both mouthed, "shit". We pulled over, poured my water bottle into the radiator and the temperature still wasn't going down…the fan was broken. Thank god I have a type A personality and left us over 4 hours door to door before our flight was supposed to take off, so the taxi driver called another taxi from a nearby town, and within 30 minutes, we were back in business. We even arrived with enough time to to grub, boom!
All in all, I had a nice little 4 day trip. It's been a while since I've done a shorter trip, but honestly, I like them a lot because if you plan ahead a bit, you can work a lot of cool stuff in without things feeling too hectic. Hopefully I'll hit up Costa Rica again in the near future with a bit more time so I can explore some more.
Have you been to Costa Rica? What were your favorite places?