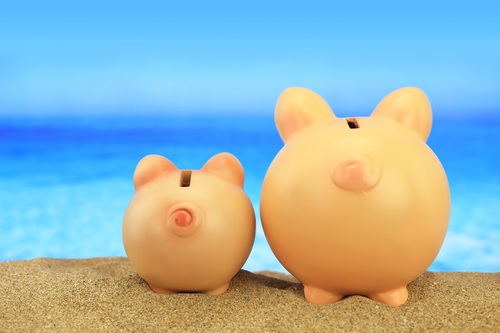 The American dollar is fighting its way back up the food chain and exchange rates offer longer and less expensive travel experiences. People are getting the chance to take the time to appreciate their surroundings without the stress of running out of money. Wise travelers also worry less about saving money and more about spending their money wisely when they get to their destination.
If you want to be like these smart travelers, you need to know how to budget your money. With the following three destinations, you'll find a recurring theme: live like the locals. Consider these insider tips on how to save significantly in Germany, Costa Rica, Vietnam and Thailand.
Berlin, Germany
Berlin's vibrant culture invites travelers (including many students) from across the world to marvel at its history. Berlin is rich with young artists who are giving the old city youth again. Hostels are aplenty about town, and they are cheap and have modern design elements unlike other hostel-laden cities. The Circus Hostel has a microbrewery, while the even cheaper Grand Hostel Berlin offers German language lessons and a bar.
Insider tips:
Food trucks are popular means to saving money in Berlin.

Free concerts performed by the Berlin Philharmonic and city tours from Alternative Berlin also are money savers.

Skip the ride up the touristy Fernsehturm (a TV tower) and instead 

visit the Reichstag dome

.

Chill with the locals at parks across the city, as they offer impromptu activities and are perfect for spending your day people watching, which is always free.
Costa Rica
Costa Rica tops the list of many travelers' favorite destinations. While it may not be widely known as a budget vacation, the dollar continues to gain ground, allowing more Americans to experience its beauty. Whether you want to party the night away in Puerto Viejo or chill oceanside with a good book in Cahuita, you'll feel what the meaning of true paradise is in Costa Rica.
Insider tips:
Expect to spend $40 to $60 per day, depending on how budget-strict you are.

Travel during the off-season (April – November) to save money.

Stay in hostels or camp. Visit the less expensive Caribbean side of the country.

Eat at local 

restaurants called "sodas" or find a Musanni bakery

 for cheap eats.

Don't buy bottled water. The tap water is drinkable.
Hanoi, Vietnam
Vietnam offers a unique look into the past. Sacred temples, pagodas and museums pepper a land with shadows of a dark history and poverty. Tourism in Vietnam's capital, Hanoi, is growing in popularity, though. There you can get room, food, taxis and drinks for about $10 a day.
Insider tips:
Look for hostels and homestays as room options.

Eat pho or rice dishes from street stalls.

Negotiate everything from food to bicycle taxis.

Ride the bus instead of a hailing a cab (although taxis are affordable and safer at night).

Wander through the streets of the Old Quarter

 and through the lush countryside for little to no cost.
Chiang Mai, Thailand
When you think about traveling to Thailand you might think of partying, but the northern capital is the complete opposite. The landscape of Chiang Mai is home to miles of rainforest, ancient temples and rolling countryside. It's mellow, laid-back and peaceful.
Insider tips:
Street food tastes better and more authentic than restaurant food, and it's much cheaper.

Bargain for everything.

Take the songthaew, a type of shared truck or bus, everywhere.
General Tips to Smart Spending While Traveling
Connect with locals 

through the Couchsurfing platform

.

Use your smartphone as a multitool. Phones like the 

iPhone 6s Plus offer a 5-megapixel selfie camera

 (eliminating the need for a separate camera), a 5.5-inch display (removing the need for a tablet) and GPS to help guide your way in unknown lands.

Visit the local tourism office for times and locations of the best-priced tours.

Use public transportation.