While many believe that breakfast is the most important meal of the day, they are obviously overlooking the importance of eating dinner as well.
The truth is dinner plays a vital role in our daily life. It helps our body maintain its levels and functions by recovering its strength late in the day and giving it the energy to sleep and rest well.
Unfortunately, after long workdays, for many people cooking dinner is probably the last thing on their mind. In most cases, they usually decide to either go out to dinner at the nearest restaurant or simply order in pizza to fulfill their empty stomachs.
However, cooking dinner doesn't need to be complicated as there are plenty of easy and quick recipes you can try out to instantly fulfill your appetite while providing your body with all the necessary nutrients.
Here are four low-effort healthy meals you can prepare for your next dinner.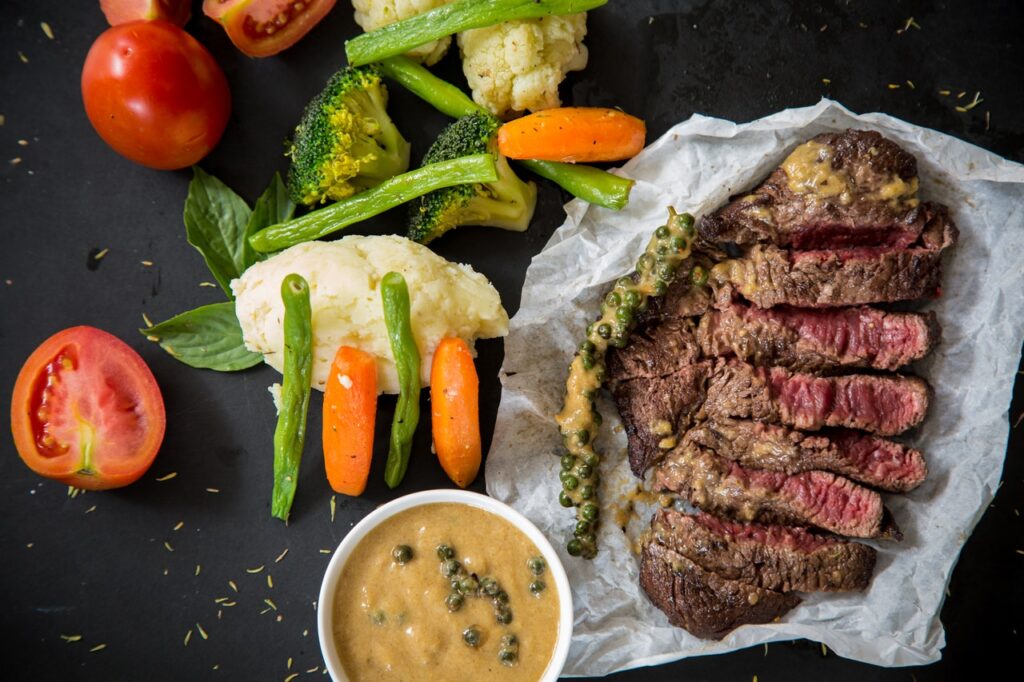 Bruschetta steak
Bruschetta steak is a healthy dinner recipe that you can prepare for casual get-togethers with loved ones on a work night.
To make it you will need one top sirloin steak, which you will cut into four pieces, three medium chopped tomatoes, minced fresh basil, chopped fresh parsley, one minced garlic clove and grated parmesan cheese.
First, combine all ingredients together and season with salt. Next, sprinkle the steak with pepper and salt and grill it covered over medium heat for several minutes on each side. Then, top it off with the tomato mixture and sprinkle with cheese.
If you want to make the meal even healthier, serve it with a bottle of tasty non alcoholic wine and some grilled veggies as a side dish.
Honey garlic glazed salmon
A healthy dinner recipe that is ideal for weeknights is honey garlic glazed salmon. To make it, pat the salmon filets dry and season them with spices on all sides.
Then, heat butter and oil in a pan and add garlic, water, soy sauce, honey and lemon juice. Once the pan gets hot, add the salmon filets, with the skin side down if the filets have skin, and cook for a few minutes. While the salmon cooks, use a spoon to baste the filets and broil them for five minutes until the salmon is sticky sweet and slightly charred.
Serve with simple sides such as crispy smashed potatoes or pea and feta quinoa salad for a fantastic meal.
Spiced carrot and lentil soup
Carrot and lentil soup is an easy and quick dinner recipe that is highly nutritious and actually budget-friendly. It is the perfect meal for chilly days as it can keep you warm and full especially when scooped up with some crusty bread.
To make it, start by cooking the carrots and onions in a previously hot pan for a couple of minutes. Next, add the lentils to the pan and cook for another minute. Then, add the ground cumin, diced red chili, crushed garlic cloves, chopped fresh coriander, one tablespoon of tomato puree, salt, pepper and boiling water. Blend the soup until smooth and serve in bowls with Greek yogurt on top.
Chicken, broccoli and beetroot salad with avocado pesto
A superfood supper recipe you should also try is the chicken, broccoli and beetroot salad with avocado pesto. It is very nutritious and easy to prepare.
To make it, start by cooking the broccoli for a couple of minutes in a large pan of water and then griddle them for three minutes until charred. Next, brush the chicken with oil and season and put it on the griddle for four minutes on each side until cooked through.
As for the pesto, throw the avocado, basil leaves, chopped cashews, minced garlic cloves, lime juice, salt and olive oil into a blender and blend until creamy. Once done, pour it over the broccoli and onion and top it off with the beetroot and chicken.
Final thoughts
Although you may be tired after a long workday, that doesn't mean you can't take a few minutes and cook a delicious and highly nutritious supper for you and your family. There are numerous healthy dinner recipes you can try which are very easy to make and will provide you with the essential nutrients you need to remain in great condition.
Whether you want something low-effort like a salad or a super juicy steak, pick the dinner recipe that seems the most appealing to you and end your day on a high and healthy note.