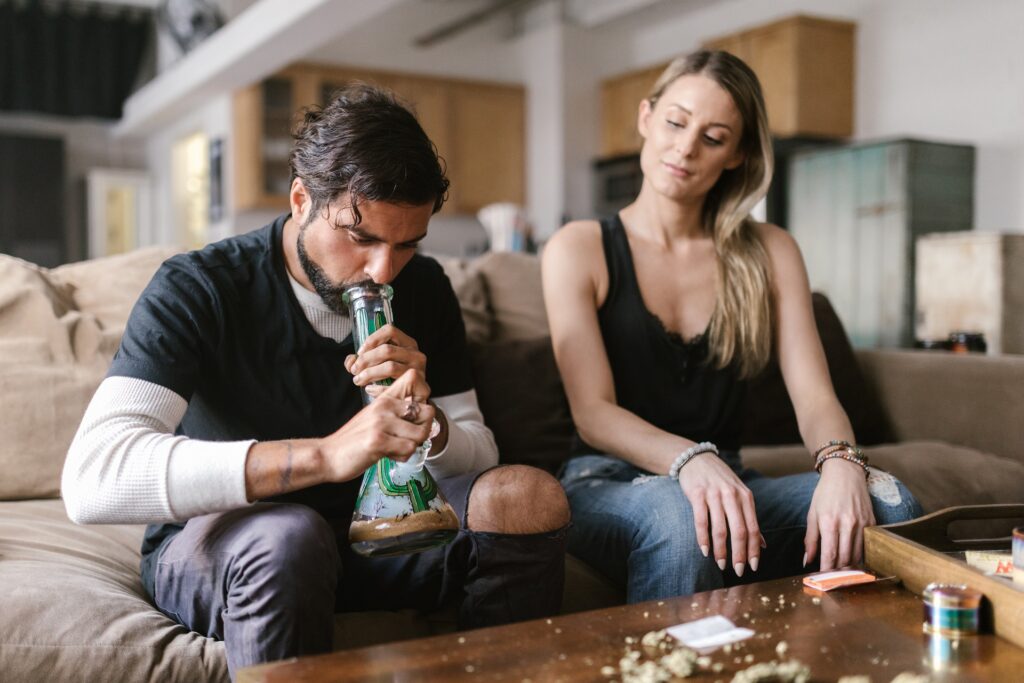 Here we will go over 11 activities to do with friends who use weed. 
If you smoke marijuana and have a friend that smokes as well, you're in for a treat because being high with friends is much more entertaining than smoking alone. 
Imagine the fun that could be had at a comedy show, the club, or while playing video games.
Let's jump right in!
1) Watch a Movie
Some strains of weed make you want to just lay back and relax, so if you're smoking with a friend and become couch-locked, grab some snacks and turn on a movie.
If you don't know what to watch, try a documentary or comedy because they are incredibly entertaining while high.
2) Go to the Park
Head over to the park to enjoy a brisk walk and soak in the warm sunshine and beautiful views.
There is something about weed that makes nature more entrancing. Plus, parks have playgrounds which are fun no matter how old you are.
3) Hit Up the Club
The club is a perfect place to go when you smoke an energizing sativa strain like sour diesel or lemon haze that makes you want to go out and have some fun.
The music, lights, and dancing at a club or bar make for a great night, and since you're high, you won't feel the need to spend a ton on alcohol.
4) Go to a Museum
For most, cannabis helps a smoker absorb information and appreciate fine art, so going to a museum while high can be an eye-opening experience. 
Most towns have art, science, or history museums that you can check out. You might also live near some unique museums focusing on exciting topics like space, cars, the military, or wax figures.
5) Dive Into Conspiracy Theories
Since weed tends to take the mind on a journey of deep thought, doing some conspiracy theory research can be one of the most fun activities out there. 
All you have to do is pick a conspiracy topic, grab a notepad and start your deep dive. 
The most common conspiracy topics revolve around the moon landing, alien encounters, fake celebrities, bigfoot, the Kennedys, and the ancient pyramids.
If conspiracy deep dives are right up your alley, check out youtube, Reddit, and your favorite streaming services.
6) Hang Out
Sometimes doing an activity while high takes too much effort, and that's ok. Instead of trying to come up with a grand plan for the day, maybe sit back and chit-chat.
You can talk about something on your mind, listen to music, have some snacks, and relax.
7) Play a Game
Whether you and your friends are into board games like Risk, card games like Dungeons and Dragons, or video games like Skyrim, you are sure to have a riot playing a game while high.
Of course, playing games under the influence of cannabis can make you lose track of time, so don't forget to take bathroom breaks and stay hydrated!
8) Make Some Art
If you feel like tapping into your creative side, smoke some weed and have an art day with a friend. 
You can paint, sculpt, craft, draw, or do anything else that lets you explore your artistic abilities.
Going to the craft store can be an activity in itself; the shelves are filled with all kinds of interesting things. You might start walking through the store and be inspired to create some incredible inventions while looking at the supplies.
9) Go to The Dispensary
You and your friends could have some fun by hitting up the dispensary.
You can pick out your next strain at the dispensary, admire the fine craftsmanship of hand-blown pipes and bongs, and look at all the newest accessories. 
The dispensary atmosphere and employees are usually pretty uplifting. You might be surprised by how much fun you have browsing and meeting like-minded individuals.
10) Go to a Magic Show
Magic tricks are mind-blowing when you're high so if there is a magic show nearby, order some tickets for yourself and a friend.
The shows are an excellent place for the open-minded and the methodical minds because you might sit in the audience trying to figure out how the tricks are done or leave feeling like magic might be real. 
11) See a Comedian
Comedian acts are another great show to hit up while high. What's better than hanging out with a friend, eating a nice meal, having a few drinks, and sharing some laughs?
If you want to make the night even more fun, try heckling the comedian, and you and your friend might just become part of the act!