Located by the north coast of Venezuela, the Dutch islands of Aruba, Bonaire and Curaçao are among the most impressive and beautiful places to visit in the Caribbean. Even though they share a common history, nature and are not too far apart geographically, each one of them can be different in regard to what kind of tourism you are looking for. Take quick look at what you can do in all three islands:
Aruba
The largest and most famous of the three islands, Aruba has an arid landscape, with large cactuses, the unique Diva Diva tree and many, many colorful lizards. In 2019 alone Aruba has received more than 2 million international tourists that accounted for 98% of the country's GDP of about US$2.9 billion in 2019, according to the World Travel and Tourism Councill (WTTC). 
Despite its dry climate, Aruba offers some of the cleanest and magnificent beaches that you can do water sports and snorkeling to see numerous exotic fish up close. Its capital Oranjestad features resorts and casinos around the city, and if you're interested in hiking, the Arikok National Park, encompassing about one fifth of the island, has different caves and pools that you can explore. For those interested, there's are water parks, like the De Palm Island and even submarine tours with the Atlantis Submarines Expedition!
Aruba's official languages are Dutch and Papiamento, which is a creole language derived from Portuguese, Spanish and Dutch. Nevertheless, you can find English and Spanish speakers pretty much everywhere. Their official currency is called Aruban Florin, which has a fixed rate of 1.79 florins per US Dollar.
Bonaire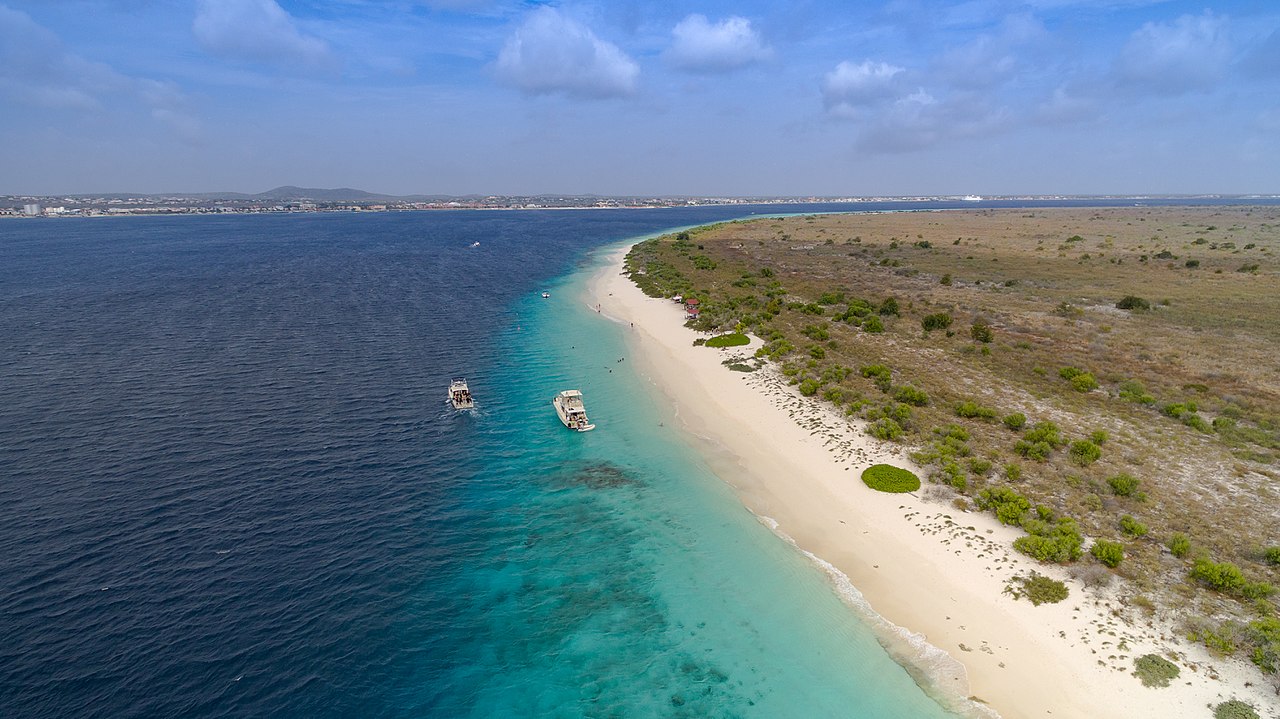 With a population of only 19,000 people, Bonaire is the smallest of all three islands. Even though tourism is not as developed as in the other islands, this is the perfect location to go if you want to find almost untouched natural scenery and escape the crowds.
The Bonaire National Maritime Park is the oldest marine natural reserve in the world and is one of the best places in the Caribbean to go scuba diving, with more than 60 marked shore dives that attract enthusiasts from all over the world.
Curaçao
Home to the world renowned Curaçao liqueur and to many historical buildings from the colonial period, this island is the second-most visited after Aruba, featuring beaches, golfing, hiking, cycling, and certainly water sports with its numerous beaches. Curaçao is the most populous of the three islands with a population of almost 160,000 people.
Willemstad, the capital, resembles a very colorful version of Amsterdam, and while you're there, make sure to visit the Old Market and the Klein Knip Beach, famous for snorkeling in its clear waters, where sea turtles and manta rays can be spotted if you're lucky.
The Antillean guilder is the official currency of Curaçao, but you shouldn't worry as USD is widely accepted, just like in the other islands. And in similar fashion, English and Spanish is spoken by most people over there.