Marketing means so many different things to different businesses. For some, it might mean targeted email sequences and drip campaigns. For others, it might mean social media marketing and paid advertisements. 
Whatever the case may be for your business, marketing is the lifeblood of a successful enterprise.
A successful marketing strategy results in high sales, impressive brand awareness, an engaged audience, and powerful customer relationships. A poor marketing strategy will leave something to be desired in one or all of those areas. 
Keeping your marketing strategy up-to-date and effective can be tricky, as there's so much innovation and change in the industry. In fact, it's advisable to review your marketing approach every twelve to eighteen months to make sure it's working well, is aligned with your business strategy, and reflects your core values. 
In order to ensure that your marketing approach is top-notch, we've put together a list of the top five software out there at the moment that can help take your strategy to the next level. There's truly something for every kind of business on our list, so give it a browse and get those creative juices flowing.
1. Piktochart: Take your reports and presentations up a notch
In the marketing industry, the name of the game is visual communication. That's what makes Piktochart such an invaluable tool for marketers. It's an intuitive, easy-to-use software that allows you to put together anything from infographics to social media campaign content to presentations. 
Tellingly, over 100,000 marketing professionals are already using Piktochart. When surveyed, 78% said that Piktochart was an important tool in their marketing strategy and 69% said it helped them communicate better with their audience. It's also used by recognizable names like Typeform, Booking.com, and Oxfam.
Specifically, marketers love that Piktochart:
Allows for easy branding.

It's easy to customize your creations with your company's branding so that everything looks consistent. Think logos, fonts, colors… the possibilities are endless. 
Has tons of sharing options.

Share your graphics online or offline with ease. You can also show them off in presentation mode, download them, send them out with a link, invite collaborators, and more. 
Is easy to use.

You don't need any special training or know-how to make beautiful designs with Piktochart. You'll be able to put together elegant, professional visuals quickly and without any headache.
If you're just getting started, Piktochart has an array of templates you can choose from to help guide you. For instance, infographics are notoriously tricky to design. However, Piktochart has a variety of infographic templates to choose from, including those for process infographics, comparison infographics, and timeline infographics.
If you're interested in giving Piktochart a whirl, they have a free forever plan you can use to get your bearings and try out their basic functionalities. If you want to take things to the next level, their paid plans start at $24 USD per month for individuals.
2. Document360: Help your marketing team work together better
When teams are able to work together effectively, projects are always more successful. If you're looking to maximize the efficiency and collaboration of your marketing team, consider using a knowledge base software like Document360.
Hint: This is especially advisable if you manage or are a member of a remote team.
Put simply, Document360 is an excellent knowledge base system for marketing teams of all shapes and sizes. It boasts many features, but the most exciting tool for marketers (or any other kind of content producers) is their knowledge base portal. It allows team members to collaborate on, store, and have access to everything that's being worked on in one easy place.
Some of the knowledge base portal's most interesting features include:
A category manager 

Markdown and WYSIWYG editing functionalities 

Versioning

Reliable safety & security features 

Drive storage

Backup & restoring capabilities 

Review reminders 

Commenting
Document360 is especially handy because it has a variety of ready-to-connect integrations and can integrate seamlessly into your existing workflows. Some of their most popular integrations include Slack, Microsoft Teams, and Google Chrome.
Document360 offers a free 14-day trial, and after that their paid plans start from $49 USD per project per month.
3. Hotjar: Turn website visitors into paying customers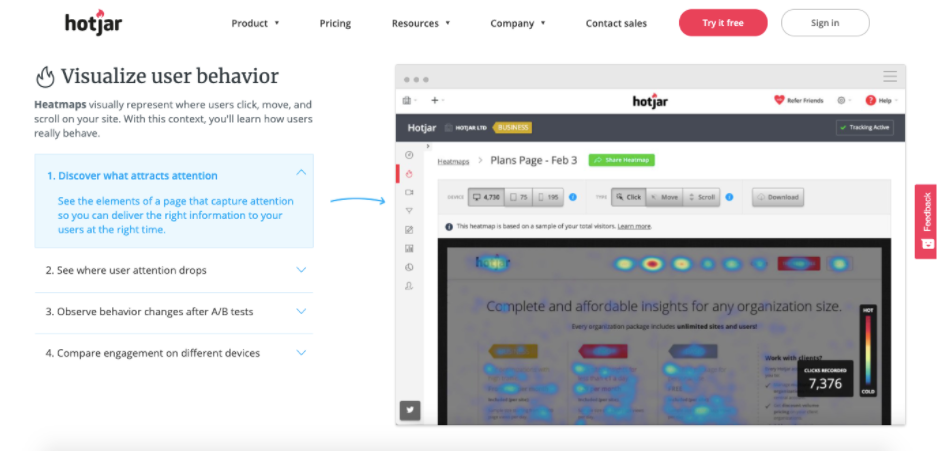 Hotjar certainly doesn't come cheap, but it's a marketer's dream. In fact, Hotjar was designed specifically with marketers, product managers, and UX designers in mind… if that's any indication. 
Hotjar shows you exactly what your website visitors see and do. They create heat maps that show you where your visitors click, move, and scroll. This allows marketers to determine whether their audience is interacting with their website design the way they want them to. 
It goes beyond traditional traffic data because it provides real visual representations of how people interact with your website.
Hotjar also has other unique features that are invaluable in the marketing industry, including:
Real-time suggestion boxes

that can deliver instant visitor feedback.

Live playbacks

that show exactly what your website visitors see.

Targeted survey capabilities.
Hotjar's basic plan is free, but it's intended for personal use and has very limited features. Their business plans start from $99 USD per month and go up from there. Nevertheless, if you use Hotjar correctly it can prove itself to be well worth the investment.
4. Adroll: Get your head around retargeting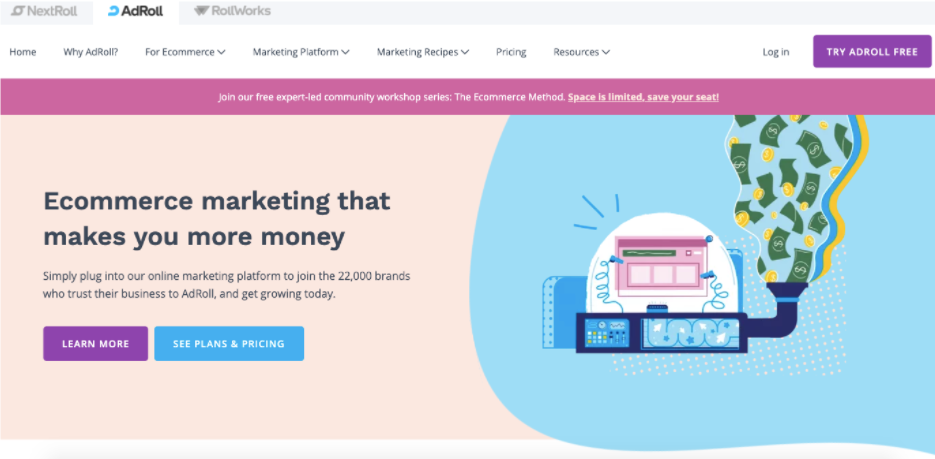 If you've ever wanted to experiment with advertisement retargeting in your marketing strategy, Adroll is a great software for you to try out. 
It helps you find more customers across diverse platforms by using sophisticated targeting. It allows you to foster relationships with your leads. It provides you with continuous insights about your campaigns so you can consistently refine your marketing strategy. It pretty much does it all. 
Adroll operates under the assumption that 98% of shoppers will forget you, also known as the attention economy. Basically, people only remember brands they buy from. In order to fight this, Adroll aims to reach leads with ads, build connections with them, communicate with them by using targeted emails, and then finally develop long-term relationships with them to turn them in to repeat customers.
Adroll also has a few more great capabilities for marketers, especially if you work in eCommerce. Namely: 
Abandoned cart strategies 

Post-bounce retargeting solutions 

Brand awareness boosters

Loyalty builders 

Ecosystem connectivity (

supports eCommerce add-ons, email marketing platforms, customer data platforms, CRMs, and analytical software).
All in all, over 22,000 brands are already successfully using Adroll for their marketing needs. You can try out their starter plan for free, and their paid plans start from $25 USD per month.
5. ActiveCampaign: Automate your marketing on all fronts
Last but not least, ActiveCampaign is a fantastic all-around marketing software for small and medium-sized businesses. It allows for customer experience automation, which encompasses email marketing, marketing automations, sales automations, and customer relationship management (CRM). It's also one of the pioneers of the visual automation sequence builder.
Some of ActiveCampaign's top functionalities from a marketing perspective include:
Nurturing leads with automated workflows and drip campaigns.

Building personalized customer experiences across different channels.

Collecting lead information with customizable forms and landing pages.

Building automations that trigger lead magnets.

Reaching customers with text messages, landing pages, and social media integrations.

Lead scoring & engagement tagging.
ActiveCampaign works so well because of its focus on customer experience and deepening authentic relationships. It's currently being used by over 145,000 businesses of different sizes and industries all around the world. We love that it's used by B2B and B2C businesses alike. 
It also has over 850 integrations you can easily connect with your account, so it can integrate seamlessly into your existing workflows. Some of the most popular options include Shopify, Jotform, WordPress, Google Analytics, and 10to8.
If you want to see whether ActiveCampaign is right for you and your business, they have a free trial option. Afterwards, their paid plans vary between $15-$279 USD per month depending on the size of your business.
The marketing world is your oyster
Establishing the perfect marketing strategy is hard work, but there's a wide array of tools and software at your disposal to help you get there. You never know what marketing software will really make the difference for your business until you try, so why not give one of the options on our list a go and see what benefits it brings you.
Whether you want to create stunning visual elements for your marketing strategy, improve your marketing team's collaboration, assess how visitors are interacting with your website, try your hand at retargeting or automate customer experience on all fronts, there's a software for you in this breakdown. 
Go ahead, you've got nothing to lose except a fresh, dynamic approach to your marketing.