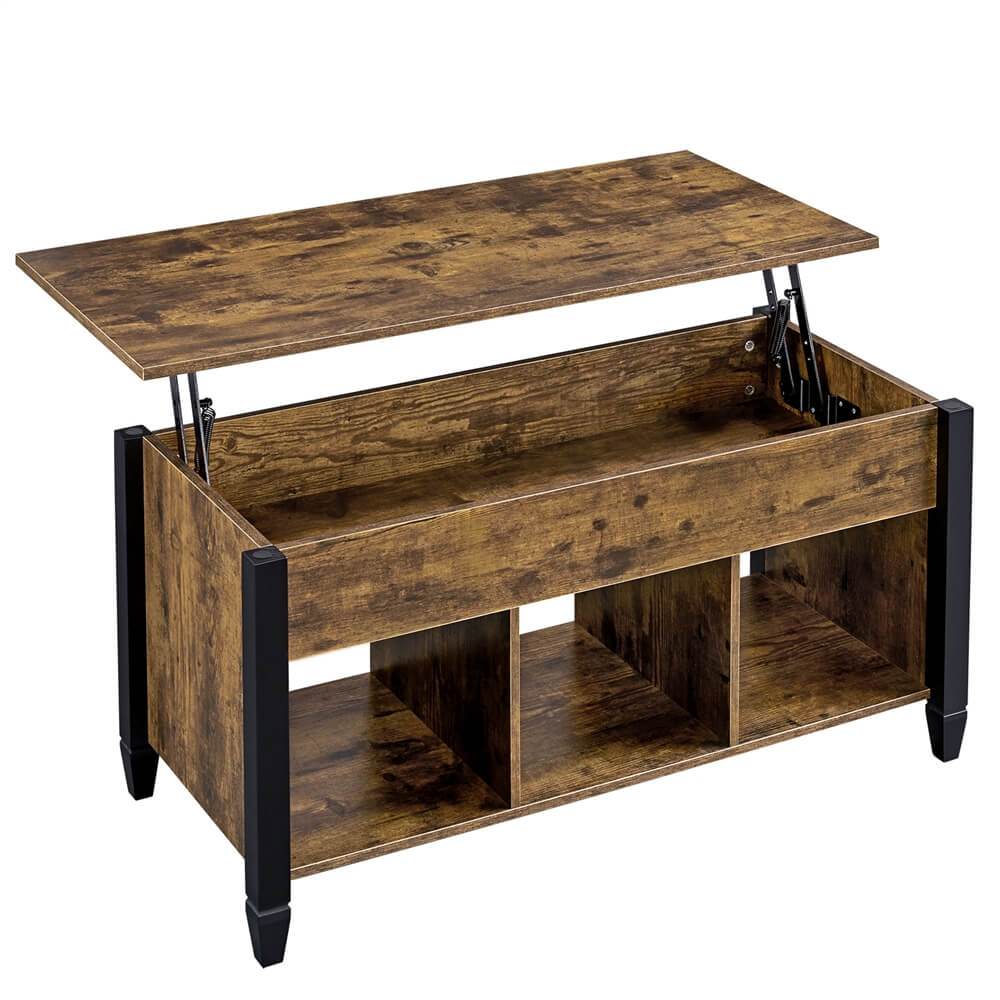 The Coffee table is a staple in most homes, living and working spaces. Asides from the aesthetic effect it brings to a room, it offers practical use as well. It holds drinks, decorative ornaments, reading material and even serves as a comfy spot to put up one's feet. The versatility of the coffee table has made it an almost indispensable part of the home and interior décor. Today, however, Furniture brands have veered off the more traditional styles of coffee tables into more unique designs sporting multiple uses. Few brands have captured the simple, rustic, practical yet stylish coffee table aesthetic as the Costoffs have done with their rustic lift top coffee table with hidden compartments and shelves.
Appearance.
At first glance, the lift top coffee table is a simple rectangular-shaped box with a rustic, natural wood finish. A closer inspection will reveal all the unique and hidden features that make this table a delightful must-have. With, sleek clean lines, neutral, earthy tones, and a simple design that is practical and easy on the eye, the rustic features of this coffee table complement the room make it the perfect décor piece for any kind of living space.
Material.
It is made of CARB P2 compliant medium density fireboard, solid wood, and metal and it sports a fire-resistant covering guaranteeing its durability. The thick frames ad tapered square legs ensure it is stable and sturdy. It is easy to assemble as well as dismantle and also comes with protective pads to protect the tabletop. The overall dimensions of the table (Length, Width, and Height) are 104.5 x 49.5 x (49-62.6) cm / 41.1 x 19.5 x (19.2-24.6)" and it weighs between 53 to 55lbs. the versatility of the Costoffs rustic lift top coffee table extends to its ease of mobility. It can be easily and noiselessly moved from one location to the other.
Unique And Hidden Features.
The rustic lift-top coffee table sports a few very unique and hidden features. First is the convenient lift top. This simple yet nifty work of engineering provides the user the option of increasing the height of the table. Hunching over a traditional coffee table to eat or work is very inconvenient. the height-adjustable feature allows one to alter the height of the table to suit one's needs. The high-quality metal mechanism responsible for this allows the tabletop to be noiselessly lifted or lowered from 19.5inches to 24.6 inches effortlessly. The lifted tabletop reveals a hidden storage compartment just beneath it. This out-of-sight storage space is designed to store items like laptops, frequently used board games, remote, and game controllers. The cover of the tabletop makes it a clean, dirt-free space so anything kept there will stay clean for much longer. Finally, the open cubic shelves beneath the table offer even more storage space and can be used to place handicrafts and books or display décor pieces that can fit.
How To Order.
Ordering one of these coffee tables is very easy. A simple visit to costoffs.com and an assortment of home furnishing will be readily available including the rustic lift-top coffee table. Direct links to the products are https://costoffs.com/collections/living-room/products/lift-top-coffee-table and https://costoffs.com/collections/living-room/products/rustic-style-lift-top-coffee-table .
More information about this e-furniture brand can be found on their social media platforms via the links @COSTOFFS for twitter, Instagram and Pinterest. While the link for Facebook is https://www.facebook.com/Costoffs
About Costoffs
COSTOFFS was founded in 2020, an e-furniture brand that focuses on home and office furniture. They are dedicated to producing reliable furniture with versatile uses and timeless looks at a reasonable price. They promise to bring their customers the best products and shopping experience at an affordable price.