Kiwi for Gmail is the ultimate application for Gmail users who wish to manage their email accounts directly from their desktop. As good as Gmail may be, there is no official desktop app for either Android or Mac users such as their is on mobile and Kiwi has completed what Google have failed to in the creation of this desktop client for Gmail.
I have been using Kiwi for Gmail for a couple of months now and it has made a real difference in my productivity levels, I cant stress how important this is for a digital nomad like myself and I want to talk a little about what you get with this service and how you can benefit from using an email client like Kiwi.
Overview
The premise of Kiwi is all about giving you a one-stop shop for all of your Gmail needs, the service is used directly from your desktop so there is no need to launch a browser and and use the web-based version. Kiwi uses the exact same interface, as Gmail so you won't have to navigate your way around something new and they have gone one better and added a number of tweaks to the existing Gmail service which help it to run smoother and make it more user friendly.
Features
Many of the additional features which you get with Kiwi may seem small but they really help to make the Gmail experience slicker and ultimately improve productivity. Here are some of the additional features which you can find with the Kiwi service.
Simple Switching
I love this feature which allows you to seamlessly switch between multiple accounts. I have different email accounts for my business, personal, blog, etc personal and the ability to jump between different inboxes without having to log out and sign in again saves me an incredible amount of time.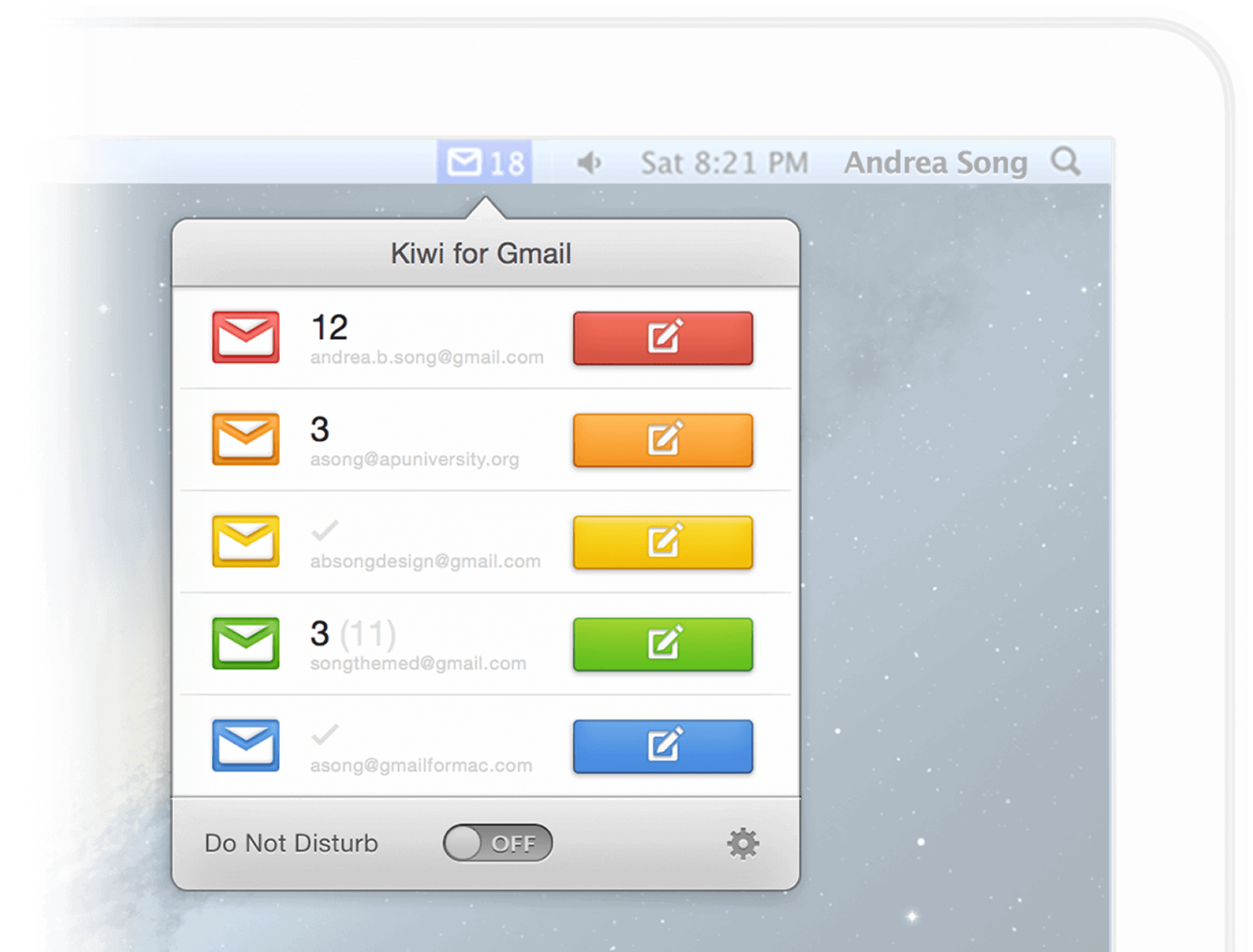 Drop Down Box
Another of those simple features which just makes your life easier is the drop-down box which sits at the top of your desktop screen at all times. From this box you can check how many emails you have and most importantly there is a compose button. I use my Mac to do a lot of different things both in and out of a browser and being able to swiftly compose an email from any of my accounts with this simple drop-down box is a Godsend.
G -suite Integration
The way in which this email client effortlessly integrates with G-Suite is a breath of fresh air for anyone like me who takes advantage of all that Google has to offer. You can create Hangouts, update your Google calendar and send files direct from Drive on the app. With the handy in-app sidebar, you can go straight to Google Docs, Drive, Sheets or any other Google app which you use, in the click of a button.
Multiple Windows
Each time you compose a new email or enter a different Google app, a new window will be launched for each one making it easier than ever to compare, reference or manage multiple tasks at once. The back button has never been more useless and as someone who is always trying to do everything at once, this feature really helps me out.
Send Large Attachments
Kiwi allows you to send huge files with the simplicity of sending a normal sized email. The software which is used by Kiwi will automatically compress any huge files and allow you to send them at speed saving you time, effort and frustration.
Cost
There are 2 different versions of Kiwi for Gmail in both the App Store and the Play Store. The first is the free, Lite version which limits you to just one email account and also restricts some key features like 'do not disturb, important notifications and Gmail plugins'. The second is the complete version which allows you to add unlimited accounts and gives you all of the benefits of the Kiwi service, this will cost you just $9.99, a worthy investment in my book.
Conclusion
To summarize, this is an application which has increased my productivity, it makes the overall operation of Gmail far easier through effortless integration with Google apps and its use of the original Gmail interface complete with additional, custom-made features is far and away one of the biggest draws of the service. Kiwi offers a great product in my view and one that truly makes life easier and more organized if you're juggling multiple email accounts on different browsers.

Disclosure: I was provided with a copy of the Kiwi for Gmail desktop client in exchange for this review. As always, all opinions are my own.