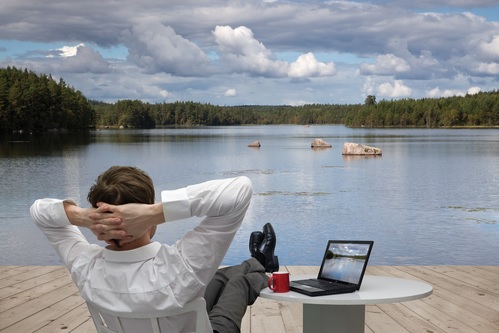 To say that you love to travel is probably the understatement of the year. You have countless travel magazines stacked up on your coffee table, you have purchased numerous Rosetta Stone programs in order to learn of various foreign languages to get by on your many adventures and you have a bowl filled with leftover Euros and British Pounds from your most recent vacation.
While you enjoy traveling abroad as much as you can, you also have rent to pay, groceries to buy and airline tickets to purchase. Fortunately, with some pre-planning, organization and hard work, you can find ways to work when you are traveling and bring in some income from a local job or your regular employment back home. For example, check out these tips and ideas:
Keep Your Regular Gig While Traveling
There are a number of approaches you can use to keep your regular job and still get in as much adventure time as possible. For example, outsource and automate your responsibilities whenever you can, especially those that take up a lot of your time. For example, using a virtual assistant may take enough responsibility away from you that you will be able to spend more time away from the office. Other ideas include making sure that you are reachable while away; be sure your smartphone has international calling and texting and if you do any work from your laptop, bring along a spare battery or two and set aside time while you are gone to check work emails and, if need be, Skype with coworkers and clients. You can also use social media to reach prospects in the United States for their business ventures; for example, some business opportunities like Amway not only provide a flexible schedule that is very travel-friendly, it also has outstanding social media assets that are available to its members that can be shared with anyone on the world wide web.
Find Work Overseas
If you would like to stay on your overseas adventures for as long as possible, and you have people back home to housesit, care for your pets and plants and take in the mail, you might look into giving notice at your stateside job and looking into finding work wherever your travels take you. As Nomadic Matt notes, if you remember that you are looking for a paying job  and not an super challenging career, you are bound to find work just about anywhere. For example, many areas are looking for native English speakers to teach classes; Southeast Asia and other parts of the world have teaching jobs available that are pretty flexible and may even help pay for part or all of your travel expenses. Seasonal positions are also plentiful in many areas, especially places like ski resorts, camps and in popular restaurants. A great place to find leads is in a local hostel, but you probably want to get to the area before the busy season starts and all of the great jobs are taken. Freelancers have also successfully taken their work overseas; this is especially true for writers, website designers, programmers or anything that uses a computer and does not require a lot of face-to-face meetings or a brick and mortar office based in the States. You can also use some of your skills and hobbies to find work abroad; for example, if you are an experienced hiker, you might get a job at a local agency leading tours into the woods, or you may turn your experience working with kids into a plum au pair job.