Making your organization a lively place is an essential component to attract your employees who work for you. Nowadays, it is quite challenging to engage a workforce that is more diverse and multigenerational than ever before. To start with it, you need to use your presence of mind and have a clear idea of your expectations. You can ensure a happy workplace by helping each employee to feel important by contributing to the organization and the world itself.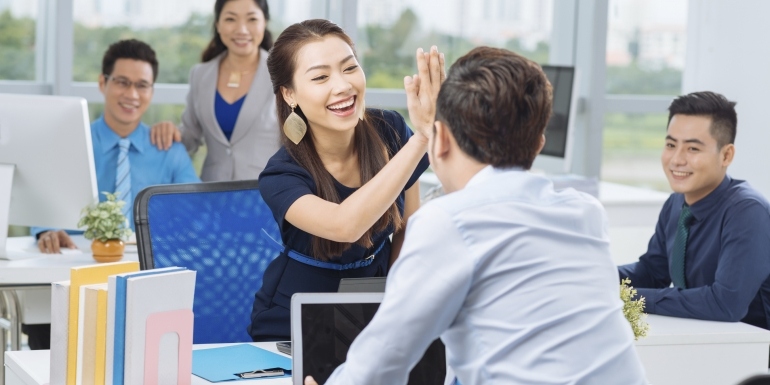 Every employee's wants are similar. As a leader, you should know how to energize a workplace culture and generate the best results for the organization. In a rapid-paced, limited-resource workplace, you need to maintain transparency in communication to collaborate more and get the desired outcomes. People should feel valued and respected to come alive at work. But because of office politics and corporate rat-race, enlivening the workplace could prove to be a daunting task.
Employees must be encouraged to voice their opinions and watch them grow. Without pushing them too far or stressing them out, you can spur productivity and make your organization a lively place to work. Keep it simple and establish the best practices that one can learn from and improve along the way.
Power2Motivate lists some leadership protocols and approaches that a workplace demands now more than ever before. Let's check some of them –
Encourage Employees to Test Their Ideas
Be a leader where you encourage your employees to test their ideas and allow them to establish their footing without being so dependent upon you. They need to be passionate about their work and get the feel to be in charge. A passionate worker will always look to provide and create impact by operating without boundaries. Such an initiative will let each member contribute to the overall effect and innovate in ways that come most naturally to them.
With a Great Communicator, Hold No Secrets
As a leader of your organization, communicating your vision, goals, and objectives sets the tone for your workplace. It defines your expectations towards them and makes you safe from losing the trust of your employees. Employees want to know the truth about growing tension points and the direction of the organization. So, hold no secrets with them and be transparent during meetings and make them part of the organization's solution to keep the workplace lively.
Spend some time out of work occasionally
To form a collaborative culture, spending, or going out with your team is a great way to socialize and have fun. With having loads of fun, it will build a relationship back in the office and will help you to communicate and work better together. Such team-building exercises will create perks, and that will make the workplace lively and happier.
Provide supportive leadership
Be a supportive leader who trusts and listens to your employees. An organization remains lively if the leader in charge keep veterans focused and act as role models. Set an example and influence employees to increase productivity by motivating and encouraging them at every step of their endeavour.
Provide Employee Recognition & Reward
Implementing a built-in rewards program in your organization will keep your employee's spirits high and your workplace lively. It will help employees to secure themselves a top position among all and help them to balance short- and long-term goals. Whether rewarding them with a meal coupon or a free movie ticket, your employees will feel motivated, and the recognition they will receive will boost their self-confidence and give them a pleasure to perform even better for the company.
Knock out boredom
Maintain your organization lively by exploring and being inventive. Encourage your team to have hobbies at work and arrange some time for them to work on their hobby. Hobbies will relieve stress and offer a chance to bond over shared interests. Try to provide a fun and relaxing area where they can clear their minds. A game of pool, carrom board, or bowling alley can put a smile on their faces and may give a fresh perspective to take back to their desks.