Productivity is a complicated concept, and it depends on such factors as physical and mental wellness, motivation, time available, ability to resist daily stress, and knowing some life hacks. You may have seen a lot of the latter, like addressing a custom research paper writing service, and some of them are really effective. However, what if we tell you there are budget, or even cost-free, and quite simple methods that will redefine your studying process? Read on to find out what particular features of a study space will guarantee you that!
It Is Well Lit and Aired
As mentioned above, productivity depends on one's mood and physical wellness. The latter can be partially guaranteed when there is enough fresh air and light in the room where you study. 
Organizing your space near a window or putting enough sources of artificial light will make you less sleepy. The same refers to the regular airing of the room. Without enough oxygen, your mind might be hazy and not ready to process anything. Besides adding sources of light, it is also extremely important to choose the right light type. Otherwise, it will make things even worse.
A 60-watt light bulb is something that will be comfortable for your eyes whether you work with a computer, complete detailed assignments, or read and write. However, take care of additional lighting – or so-called task lighting using a desk or floor lamp. It reduces eye strain and helps one focus on their assignment.
It's Neat
The aesthetics of the place where you study are important indeed, but do not get distracted trying to make a Pinterest photo out of it. Moderation is key. When there are too many items meant to do nothing but make the place look beautiful, these objects turn into clutter. They occupy the space you might use for another monitor that would help you work and study faster, limit your movements, and so on.
Move all the things you don't use to a side table or drawers and study like that for several days. There are chances that you will feel more comfortable and, thus, opt out of extra stuff. And, of course, mind the basic rules of keeping the space clean. Dust, water and tea rings, crumbs from chocolate cookies, and so on won't do any good either to your laptop or documents, copybooks, etc.
It's Equipped With Properly Functioning Devices
It's hardly possible to work on your paper smoothly when your computer glitches all the time or you have to retype your words because of some other hardware defects. That is why you should have:
a keyboard with a convenient location of keys

a mouse or touchpad you will always have an opportunity to charge (those on batteries are neither eco-friendly nor reliable 'cause you may suddenly run out of batteries); so, choose either a wireless rechargeable mouse or a classic wired one)

a laptop/PC regularly furnished with thermal paste, with a modern OS, at least 8GB RAM, and enough disk memory  

at least 15.5″ display/monitor – this is the "the bigger – the better" case – with unharmed matrix (stripes or patches showing different colors or no image at all are the signs that it is corrupted)

a charging device that doesn't spark or stop working when moved an inch to the side

antivirus software installed
Obviously, there are many more aspects one may consider, yet, the list above is a foundation of a healthy computer and the bare minimum of any user's stable work. Students rarely have an opportunity to invest much in hardware and software, though. However, you can easily buy used but properly working devices or find someone who is giving away their old keyboard or put a symbolic price on their old laptop. 
There is also an option to buy an item from the store where it has been on display for a while. If it functions properly and a warranty is provided by the seller, this is a sure way to go. Some companies give great discounts for such goods even when they have some insignificant scratches.
There Are No Entertainment Items
The temptations in the form of PlayStation games, board games, etc., should be gone from your study space. Remove the video games you might have on your computer from the home screen. As it is hard not to use your smartphone these days, at least use app blockers for social media and messengers you don't need for your studies. 
Also, try not to have meals there. Yes, it is a widespread habit to eat in front of a monitor watching YouTube or Netflix. However, eating where you work may lead to a lack of order and vague limits between your study area, lunch zone, and personal space.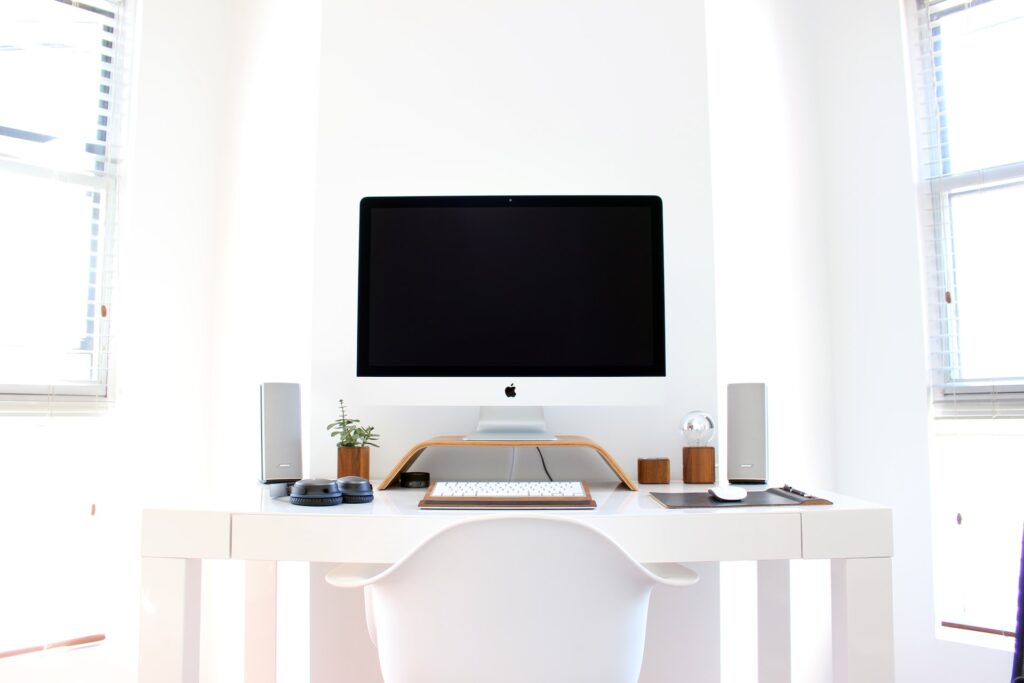 It Has Comfortable Furniture 
For you to not slide forward when sitting on your chair, your feet should stand on the floor firmly, not on tiptoes. Otherwise, you slide because the body tries to adapt when lacking comfort. However, if dealing with the discomfort constantly, you will notice as your posture gets slouchy. As a result, headaches and pain in other parts of the body kick in. A new chair or a footstool can fix this problem.
The way you locate your gadgets also matters. To sit straight, you need not only a proper chair and a proper table. It is important that the screen/monitor is located right in front of you so that you don't have to slouch to see better or turn your head to one side to see the whole picture. 
So, if you have a small laptop and a rather low table, for instance, put the former on a laptop pad or another kind of platform. If your laptop or monitor is not in front of you, find a way to move it there. You might have to do a whole makeover, but the result is worth it. When you don't have distracting factors like an improperly placed chair or keyboard, your focus sharpens.
Takeaway
These are the five features that will definitely make your study space more comfortable and you – more productive. Remember that physical comfort stands above everything else when your body is weak or doesn't feel well, the level of your productivity spirals. So, take care and make sure you follow the tips above!