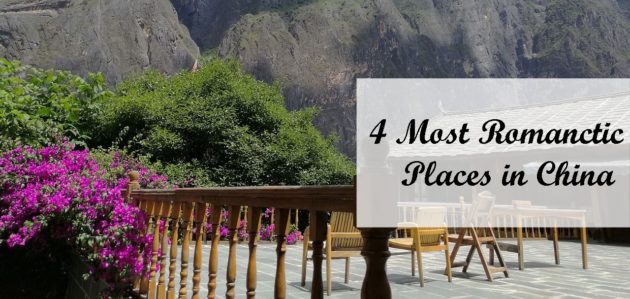 Are you looking for the perfect destination for your honeymoon or you wish to surprise your partner on your very first anniversary or maybe you have just crossed 10 years of an utterly amazing relationship? Well, whatever the occasion is, romance is the key to lighting up every occasion or surprise with your partner. China is a great place to opt for, if you are in search of a romantic destination. And oh, did you know that China is termed as one of the best honeymoon destinations too? This makes us believe that China has the perfect ingredient of romance in it which makes it stand out!
There are a lot of places in China which are famous as the most romantic spots. However, we have summed up the top 4 romantic places in China for you. From how this place can spark up your evening or day with your partner to where you can stay to make your journey even better; it is all packed inside. You can't wait to travel there, right? Well, here it is then…let's get started!
Yangshuo
If you and your partner are more of an outdoor person and you need a perfect atmosphere, to indulge yourself into, then Yangshuo is the best place for you. To make you honeymoon trip stand out, this eye catching scenic beauty is a delight to visit for the eyes and the soul. It is not only going to bring peace to your eyes and mind but will also allow you to have loads of fun with your partner as the vibes in the air are filled with love. The landscapes of Yangshuo reflect a painting as they stand still and perfect, making you fall in bundles of love and appreciation for them.
The Li River has a wonderful rhythm which allows you to sit near it for endless hours and chat with your partner at ease. The river is surrounded with amazing villages and karst pinnacles. You can visit all the beautiful places around it by simply hiking or by renting a bike too. It depends on what suits you best. Majority people prefer renting a bike as they don't want to get tired by hiking. But if you and your partner are sports lover then it is great to take the hiking route as you can stop by and admire the beauty.
Reaching Yangshuo is not a difficult task but if you want it to be romantic, then you should go with the flow of its beauty. Start from the romantic town, Guilin and then take a boat to float almost 80 km. it will take you almost 5 hours from boat but the scenic landscapes that your eyes will cherish, will be make it worth it. You will also be able to view the Middle Kingdom's most admirable and attractive landscapes by boat. Thus, don't try to skip it all as the beauty lies within it all.
For food lovers, the West Street of Yangshuo, offers some amazing cafes, which are extremely wealthy in taste and flavor. If you are looking for some great sweet dishes then the Café China is the perfect pick. It will also offer you the best view of mountain tops around the city. The Balcony is a great place for breakfast as well.
Dali
Dali is a great romantic escape for couples who are looking for a break from their daily and hectic routines. The combination of lakes, mountains, cobblestone streets, amazingly mysterious temples and delicious cafes is all that any couple would ask for, in the name of a perfect get away from their real world. Moreover, if you are a huge fan of Bob Marley then you will certainly fall in love with this place as his songs play in every other café in Dali.
The best place to stay in Dali is the Dali Asian Star Hotel. It offers breathe taking mountain and lake views which are a treat for the eye and soul, especially when you are on a vacation. Waking and sleeping to the sight of these can awaken all the love and romance within you. Moreover, this luxury hotel has simply everything packed within one place for you. From karaoke to a beauty salon; there is nothing that this hotel isn't going to bring to you.
The food variety is also amazing in Dali. From Chinese to Yunnan and Bai dishes; there is everything available. You can also get vegetarian and incredible coffee in Dali. This is a great one stop for romantic places, perfect food and the love atmosphere that you need for a honeymoon trip!
Sanya
If you a romantic by nature, then you can relate long, romantic walks at beach and the staring at the sunset together moments, perfectly. This is exactly what Sanya has to offer to you. Sanya has the best beaches packed for you. It lies on the southern side of Hainan Island. If you pick Sanya as your romantic destination in China then you must visit the Bhuddist Temples, Yalong Bay, Monkey Island and the tropical gardens are worth a walk. The Monkey Island has Macaque Monkeys which is the rarest breed of all. You should not miss hanging out on this island and snap a photo of them as they are extremely rare to be found. If you are looking for some time alone, then you can easily rent a bike and hang around some remote areas too.
Sanya is extremely famous for seafood. You should never miss out their seafood as they bring everything fresh out of the tank for you. Don't worry if you are not a seafood lover as you can easily get stir fried veggies, chicken, ham and chicken liver around the village too. Wine lovers can also grab the white wine which is definitely worth tasting (you are going to love it). Take a bottle along with you and sip along your partner at the hotel while you both chit chat freely during the evening!
Shangri-La: Himalayan Heaven
Shangri-La is better known as the Himalayan heaven and can I state that it certainly is a heavenly place to visit in China. One of the most eye-catching destinations which is termed romantic just right because its ambiance brings the love out from within you. The breath taking and romantic views of mountains and the Kingdom hold the exotic beauty that will make your mind free from all the daily routine stress. This place was isolated from the world for years and was discovered by intrepid explorers. This destination is known as the best place to discover the high-altitude romance from within you. This means that all the newly wed couples must visit this place and get a whiff of fresh air.
Shangri-La brings the best opportunities to visit amazing places like Haba Village, Tiger Leaping Gorge, Napa Lake, Xiagei Hot Springs and Pudacuo National Park. These are nearby places from Shangri-La and are worth a visit. Moreover, the food spots are extremely cozy and the ambience is lovely there too. Do check out the Stupa Book Café, Potala Café and Tibet Café for some really good breakfast and food over all. Dining on the banks of Shudugana River is also one of the most romantic things to do. You can take a horse ride to the River as it will light up your mood perfectly.
These four romantic places in China are worth your money and you will fall in love with these places. Take your partner here for your honeymoon or celebrate your anniversary or simply go for a vacation to keep the romance awakened and sparkled in your relationship. A perfect romantic destination is all it takes to make you feel alive in love, all over again! If you would like to go to any of these locations, you should book a China tour and experience these fantastic locations with a significant other.