The best holidays are the ones where you get to see some breathtaking natural beauty. These trips will remind you of what a beautiful planet we live on, and this can be therapeutic for many. A fantastic activity that allows you to do this and have some fun at the same time is fishing. When you are fishing you can head out onto the water and forget all your troubles in the world.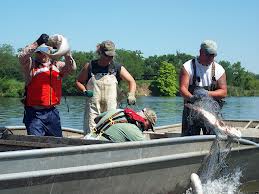 Whether you are an experienced fisherman or not, you are sure to enjoy the peace and quiet that you get with a fishing trip. There are all kinds of fantastic areas to go fishing around the world, as well as a number of different fishing types. This could include fly fishing in Iceland, trout fishing in Morocco, ice fishing in Nova Scotia, Canada or trout fishing in the crystal clear waters of Queenstown, New Zealand.
One of the main reasons people go on fishing holidays is to connect with nature, relax and soak up the beautiful surroundings. You will find though that fishing can also be great fun and add a whole new dimension to your experience and it is quite a thrill once you get a bite. In order to catch any fish you will want to stock up on some top quality fishing gear before you go. With high quality gear you are much more likely to have a successful trip and enjoy the holiday that bit more.
Stocking up Before Your Trip
It will depend on the type of fishing trip you go on, but you will want to invest in a high quality rod, reel, terminal tackle, the best fishing nets and fish care as well as the right clothing and accessories. For all of this you will want to visit fishing specialists, with companies like Fishing Hut and a few others being a good place to start. Once you have everything you need to catch some fish you will be ready to get out on the water and relax whilst you wait.
There are some amazing fishing destinations in all areas of the world for you to experience. All of them will be great fun and allow you to see some stunning natural beauty, making it a serene and peaceful experience. This can be much more valuable and memorable than other holiday types, so consider a fishing holiday for your next break and feel at one with nature.